Who We Are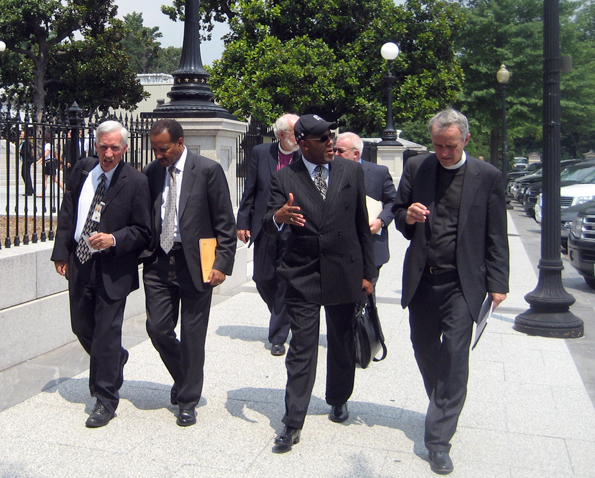 Faith leaders from the Circle of Protection walk to a meeting with White House staff.
Photo: Laura Pohl for Bread for the World
Our Story
In late 2010, the newly elected Congress was focusing on deficit reduction. It became clear that it might disproportionately cut programs vital to hungry and poor people. Had those cuts been enacted, each of the country's 350,000 religious congregations would have had to spend $50,000 annually just to make up for the proposed cuts in nutrition programs.
Representatives of very diverse Christian groups had several meetings to decide how to react. We developed a set of principles that were endorsed by over 65 national Christian leaders.
The Circle of Protection began with a fast that lasted until the end of Lent. The fast was led by Ambassador Tony Hall of the Alliance to End Hunger, Rev. David Beckmann of Bread for the World, and Rev. Jim Wallis of Sojourners. When it ended, more than 36,000 people – including about 24 members of Congress – had participated. The FY 2011 budget was passed without drastic cuts to hunger and poverty programs, and a government shutdown was averted.
Our fast was followed with a meeting with President Barack Obama and his senior staff at the White House, July20, 2011. We asked them to protect funding for programs for hungry and poor people in the budget debate and in any deal concerning the debt crisis. We all agreed that we could get our fiscal house in order without doing so on the backs of those who are most vulnerable.
We met with leaders of Congress, from both parties in both houses, sharing this message and the Circle of Protection principles.
On July 6, 2012, we invited the presidential candidates – President Barack Obama and Governor Mitt Romney – to submit short video statements on hunger and poverty. "We believe that this presidential campaign should include a clear focus on what each candidate proposes to do to provide help and opportunity for hungry and poor people in the United States and around the world," we wrote them.
Each candidate sent a video statement, and this was the first time they talked openly about how they would end hunger. We packaged these into DVDs that were circulated to more than 3,000 local congregations. Our organizations posted them in their websites.
In 2013, Congress again faced an impasse over the national debt and proposed budget cuts. Over 5,000 faith leaders wrote a pastoral letter to President Barack Obama and key members of Congress. We asked them to avoid political brinksmanship and to reweave a bipartisan circle of protection around programs that create opportunity and alleviate poverty.
Despite months of negotiations, Congress could not agree on a budget for FY2014. The government shut down, and it continued to be shuttered until Oct. 16. Our response was a Faithful Filibuster to remind congressional leaders of the biblical mandate to protect the most vulnerable people. People of faith prayed within view of the Capitol and read all of the more than 2,000 poverty and social justice passages in the Bible. We kept the vigil from Oct. 9 – Oct. 16 whenever Congress was in session. Both the budget and debt ceiling crises were averted.
In 2014 and 2015, the Circle of Protection has been calling for a new bipartisan dialog on what it will take to end hunger and poverty. We are encouraging our leaders to seek creative solutions, while maintaining budget commitments to programs that are essential for poor and hungry people in the United States and around the world.
As the nation moves toward the 2016 presidential elections, the Circle of Protection is calling on all candidates to give focused attention to hunger and poverty. Over 100 Christian leaders are asking each candidate to produce a 3 minute video, outlining what he or she would do to offer help and opportunity to hungry and poor people in the United States and around the world.
Read the Letter
View the List of Letter Signers
View Circle of Protection Steering Committee